Ever wanted to download a video you have seen on YouTube ? How about TikTok or on Instagram ? Here is the best and easiest way to do just that. Learn how to easily download videos from YouTube, Instagram, TikTok and more…
Download YouTube videos using 4K Video Downloader
Introducing 4K Video Downloader, a small application that can download pretty much any YouTube or other social media video in mp4 format easily. It works on Windows, macOS and even Linux systems. 4K comes with free and paid versions with the paid version being much more powerful packed with a lot of useful features.
How to Download a YouTube Video quickly and easily
Easily the best solution to grab videos of YouTube and other social media platforms. It's as simple as copying the URL of the video you want to download, then use the past link option in the application to start downloading the Video to your computer.
You will now get the option to select the desired quality of the video, subtitles and the location you wise to save the video too.
With the full version you can also download entire play lists and use the smart mode to automatically set and apply settings for multiple videos at once.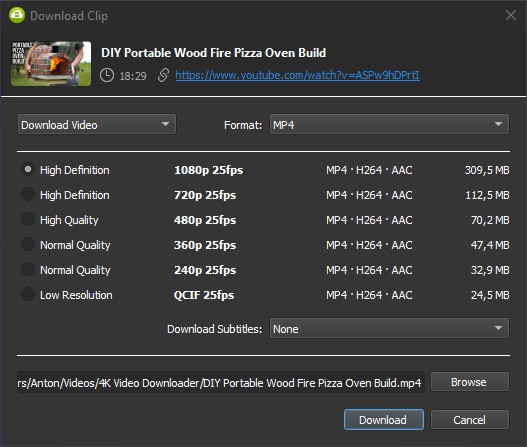 You can queue up multiple YouTube videos for downloading in the list and 4K will process the entire list. The free version will have some limitations here so its best to get the full version of 4K Downloader.
4K Video Downloader offers many great and unique features such as:
Downloading Video's in different qualities
Download a single video only
Download a whole playlist in one go
Very fast to download a Youtube video and encode it to .mp4
Comes with a limited free version
Works on Windows, macOS and Linux
Can automatically download videos from your YouTube subscribers
Rip audio only from a YouTube video
4K offers a dedicated app called 4K YouTube to MP3. Use this app if you just want the audio only. It works very simular to the YouTube Downloader but its got better features for working with audio formats and features only.
Downloading videos from other social media platforms
If you are looking to download videos from Instagram or TikTok then 4K has you covered. They offer apps for different platforms as well, take a look
4K has different apps available for different social platforms, while some might work on others its best to use the right app for the right social platform.
Conclusion
4K is really the easiest way to download most videos and other media from your favorite social media platforms that I managed to come across. Their paid versions are packed full of useful features and is well worth it. I have been using 4K Downloader for a few years now and never had any issues with it at all. They push updates regularly too to make sure the YouTube encoding as time change will also be supported. If you ever wanted to download a YouTube video or just maybe rip the audio form one then this is definitely the best and easiest software to use. You can even download the video's to a NAS server on your network…